Our Distributors & System Integrators
Distributors
We partner with global, tier one distributors to best support our ODM/OEM customers.
System Integrators
System integrators (SI) specialize in bringing together the components and subsystems into one complete turn-key computing systems. Below are qualified SI partners who built computing solutions using BCM industrial motherboard products.

Dedicated Computing
Dedicated Computing designs, builds, validates and integrates embedded, single-purpose computers and high level assemblies for Original Equipment Manufacturers (OEMs). Dedicated Computing validates each product to the specific needs of the customers including industry and regulatory standards, and application-specific thermal, acoustic, power and environmental considerations.
---

CONTEC DTx INC.
Since 1991, CONTEC DTx INC. (DTx) has been recognized as the authority on highly reliable embedded computing systems and advanced display solutions. As a technology systems integrator, DTx provides Engineering, Manufacturing and Supply Chain Management services to OEMs in the medical device, industrial automation and defense industries. DTx provides value to customers around the world through product design and innovation, life cycle management, logistics and post-production support for processor-based technologies. A proud member of the Contec Co., Ltd. Group Companies since 2012, DTx offers extensive line of Industrial PCs, Wireless Network, DAQ, Control & Measurement Solutions.
---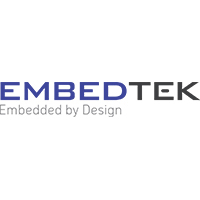 EmbedTek, LLC
EmbedTek designs and manufactures purpose-specific computers and integrated display solutions for original equipment manufacturers. Our designs leverage commercial off-the-shelf technology, such as BCM's industrial motherboards, augmented with engineered hardware and software specific to our customers' applications. We provide a breadth of services, from design through delivery and service, with a single point of contact and accountability.
Understand more about our Custom Industrial Motherboards and Open Frame Tablets
About Us
BCM is a supplier of turn-key industrial motherboards and embedded computing solutions for well over two decades. Our Southern CA based R&D and PM teams provide fast paced and innovative ODM service with leading technology to meet most customer requirements while our manufacturing, global sourcing, and logistic teams work together to bring the most cost effective and highest quality solutions to our customers.