BCM introduces its MX310HD mini-ITX motherboard supporting the 8th generation Intel® C2/C4/C6 Core™ i, Pentium®, and Celeron® processors
BCM Advanced Research, a global industrial PC solution provider and an associate member of the Intel® Internet of Things Solutions Alliance, introduces its MX310HD low profile mini-ITX motherboard. The board is equipped with Intel® H310 chipset and supports the 8th generation Intel® Core™ and Celeron® desktop S-series processors, codename Coffee Lake platform.
Balance of Cost and Performance
The Intel® H310 chipset is the entry level model for Intel® 8th generation Core processors. With a focus on value-performance, the MX310HD mini-itx motherboard supports dual onboard display via the combinations of HDMI, DisplayPort or LVDS versus the feature-performance models based on the Intel® Q370 PCH, such as the BCM MX370QD, that supports triple onboard display. For a value-series product, the MX310HD does provide an impressive feature set including TPM 2.0, USB 3.1 Gen1 (formerly known as USB 3.0), M.2 SSD and SATA with onboard SATA power. The MX310HD supports a wide range DC-in (12V-24V) power input for input power flexibility. The MX310HD is single stack low profile mini-ITX motherboard with rich external and internal I/O interfaces. External I/O includes one HDMI, one DisplayPort, two RJ-45 LAN ports, two USB 3.1 Gen 1, two USB 2.0, one Line-out, one Mic-in, and one DC-in connectors. The MX310HD is designed to retain and optimize the core functionalities for industrial applications while enabling the users to build the system with the 8th generation Intel® Coffee Lake processors on a value budget.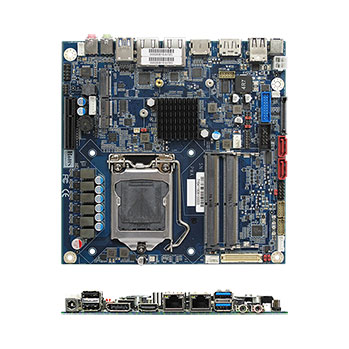 MX310HD Features
LGA1151 Socket supports 8th Gen Intel® Coffee Lake C2/C4/C6 Processors
Intel® H310 PCH
2 x SoDIMM supports up to 32GB Dual Channel DDR4 2400 MHz System Memory
Rich Expansion Interface: 1 x PCIe x4, 1 x M.2 Type M 2242/2280, 1 x M.2 Type A/E 2230
Supports Dual Display: 1 x HDMI, 1 x DisplayPort, 1 x LVDS
4 x USB 3.1 Gen 1, 4 x USB 2.0
2 x COM, 2 x SATA III
12V-24V Wide Range DC-In
TPM 2.0
6.7" x 3.7" (170x170 mm)


For more information please contact us at BCMSales@bcmcom.com or visit us at www.bcmcom.com.


Member of the Intel® Internet of Things Solutions Alliance
BCM is an associate member of Intel IoT Alliances. This membership opens a wide door for BCM to align closely with Intel® to better serve our clients in their use and adoption of Intel® embedded architecture. As an Intel® Internet of Things Solutions Alliance Associate member, BCM stays technologically connected through in receiving early access to the latest Intel® technical roadmaps, test platforms, design support, and business objectives. Additionally, our R&D engineers and account managers will be in a position to better serve our clients by further educating themselves about the latest Intel® embedded technologies and by actively participating in Intel® training, market development programs, and other ecosystem activities.