BCM announces the ESM-CFH, a PICMG COM R3.0 Type 6 COMe module with 9th/8th Generation Intel® Xeon® or Core™ i7/i5 /i3 onboard processors
BCM is pleased to announce the release of its ESM-CFH PICMG COM R3.0 Type 6 module. The ESM-CFH is a System-on-Module (SOM) in COM Express form factor (COMe) and is designed based on the 9th/8th generation Intel® Coffee Lake Refresh/ Coffee Lake platform. The module is equipped with an 9th/8th Intel® Generation Xeon® or Core™ i7 / i5 / i3 onboard BGA processor with SKU options for the Intel® CM246/QM370 PCH chipsets. There are four mentionable new feature enhancements over the previous generation of COMe modules:
Compliance with the PICMG COM R3.0 mechanical specifications standard
SKU options to support either Intel® Core™ or Intel® Xeon® processors
The ability to support Intel® workstation processor or mobile core-i H series processors to delivering better CPU performance in the same thermal envelope
THREE 260-pin DDR4 2400 SO-DIMM sockets (two horizontal sockets on the front and the 3rd socket on the back) supporting up to 96 Gbyte (non-ECC/ECC) system memory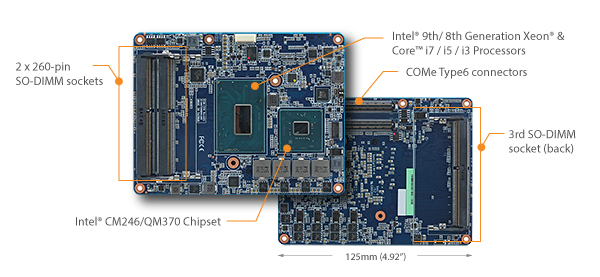 Video/Graphic Capability
The ESM-CFH supports up to three independent 4K HD displays. The module supports dual-channel 18/24-bit LVDS, VGA, DP/HDMI/DVI, and optional eDP.
I/O & Carrier Board
Whether you use your inhouse design capability or BCM's custom design services for the carrier board, the ESM-CFH supports rich input and output interfaces including up to 4 x USB 3.2 Gen2 (10GB/s ), 8 x USB 2.0, 1 x Gen3 PEGx16, 8 x PCIe x1 and 4 x SATAIII. The module also supports rich expansion interfaces including 1 x PCIe x16 Gen3 (configurable to 1 PCIe x16, 2 PCIe x8, or 1 PCIe x8 + 2 PCIe x4), 8 x PCIe x1, configurable to x4 or x2, *6 x PCIe x1 (PCIE0~3 w/RST , PCIE4,5) and *2 x PCIe x1 (PCIE6, PCIE7). This ESM-CFH SOM/COMe module supports +9 ~ +19V wide range power input. For development, BCM provides its EEV-EX14-A3R is a micro ATX form factor (9.6"x9.6") carrier board that compatible with ESM-CFH.
Target Applications
ESM-CFH COMe module provides many features required by various industry or applications needing high performance combined with specialized computing requirements not available off-the-shelf. It is an ideal solution for hosting embedded edge computing nodes, high-performance medical devices incorporating unique custom IP on the custom carrier board, casino gaming applications with customized gaming circuitry, or any high-end computing application that requires unique customization or feature requirements that can quickly be designed onto a carrier board that hosts the COM Express module versus a more lengthy ground up design on a single board platform. Target market for this type of high-performance, high customization/specialization, and quick time to market product include:
Medical devices
AI & Automation applications
AI in Transportation applications
Casino Gaming
AI in Security applications
Simulation
Digital Broadcasting
Modular Design Advantages
The ESM-CFH System-on-Module form factor optimizes a modular design concept where customers focus on their energies and expertise by designing a carrier board incorporating their unique IP while leveraging BCM's world class x86 compute design experience applying our knowledge to the time consuming and complex design of the high-speed CPU, memory, and PCIe circuitry within the ESM-CFH module. This approach allows you design what you know best and BCM to design what we know best. The end result is faster time to market, reduced development time, expense and risk, and also allows customers to keep their sacred IP and secret sauce inhouse. This modular concept, if done correctly, can also provide a seamless upgrade path utilizing the same carrier board across multiple CPU generations.
Availability
For availability or ODM/OEM requirements based on this platform, please contact your BCM representative or email us at BCMSales@bcmcom.com or visit our website www.bcmcom.com for availability and additional information.
List of supported Processors
Mobile 9th Generation Intel® Xeon®, Core™, Pentium® and Celeron® Processors - 14nm process
Xeon® E-2276ME 45W (35W cTDP), 6C/GT2 (ECC/non-ECC)
Xeon® E-2276ML* 25W, 6C/GT2 (ECC/non-ECC)
Xeon® E-2254ME* 45W (35W cTDP), 4C/GT2 (ECC/non-ECC)
Xeon® E-2254ML* 25W, 4C/GT2 (ECC/non-ECC)
Core™ i7-9850HE 45W (35W cTDP), 6C/GT2 (non-ECC)
Core™ i7-9850HL* 25W, 6C/GT2 (non-ECC)
Core™ i3-9100HL 25W, 4C/GT2 (ECC/non-ECC)
Celeron® G4930E* 35W, 2C/GT1 (ECC/non-ECC)
Celeron® G4932E* 25W, 2C/GT1 (ECC/non-ECC)
Mobile 8th Generation Intel Xeon® and Core™ Processors - 14nm process
Xeon® E-2176M* 45W (35W cTDP), 6C/GT2 (ECC/non-ECC)
Core™ i7-8850H* 45W (35W cTDP), 6C/GT2 (non-ECC)
Core™ i5-8400H 45W (35W cTDP), 4C/GT2 (non-ECC)
Core™ i3-8100H* 45W (35W cTDP), 4C/GT2 (ECC/non-ECC)
*SKU is project-based support. Please contact sales for details