BCM announces its RX67Q-LVDS, a Desktop Intel® Sandy Bridge Micro ATX motherboard with onboard 18/24-bit LVDS
BCM Advanced Research, an Associate member of Intel® Embedded Alliance, today announces the release of its RX67Q-LVDS Micro ATX motherboard featuring an onboard LVDS interface for desktop processor systems requiring a direct connection to LVDS display devices. This motherboard is designated as a BCM OEM Product.

Providing an onboard LVDS connector on a desktop motherboard has many advantages for OEMs. It provides the performance and price advantage of a desktop system over more costly mobile technology platforms that typically provide LVDS connectivity. This is ideal for Kiosk, ATM, Gaming, or POS applications where connecting to flexible open frame LVDS display may have unique advantages. Also, OEMs that previously used ADD2 cards in a desktop PCIex16 slot to provide an internal LVDS connection can no longer do so as that feature is no longer supported on the new Intel® Q67/Q57 desktop chipsets supporting the Intel® Core™ i7/i5/i3 processors. High-end medical imaging devices, x-ray or ultrasound machines, manufacturing equipment, or customer facing display machines with an operator often require a small display console for the operator, a small touch-screen for the machine inputs, or small machine status display, where having an onboard LVDS connection on the motherboard to drive that small display is an ideal solution.

BCM released its standard product RX67Q in 2011 with great success and the RX67Q-LVDS is now available as an OEM version of that product. Both motherboards are based on the Intel® Q67 desktop platform and support second generation Intel® Core™ i7/i5/i3 processors. Both motherboards provide rich expansion slots and I/O interfaces such as PCI Express x16 and x4, PCI, dual LAN, 14 USB ports, 4 COM ports and have the capability to support more than four monitors playing the HD content.

The only difference between the RX67Q and the RX67Q-LVDS is the 18/24-bit LVDS interface on RX67Q-LVDS. With the onboard LVDS header, the RX67Q-LVDS provides direct access to LVDS devices for display-rich applications including digital signage systems, interactive multimedia kiosk with dual displays, self checkout system, point-of-sale, and medical imaging systems.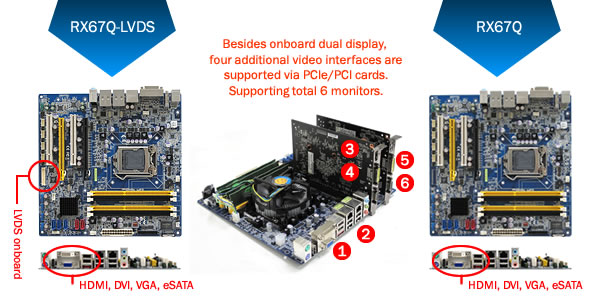 For product specification please visit RX67Q-LVDS. For additional information regarding BCM, please visit www.bcmcom.com or contact us via BCMSales@bcmcom.com.


---
© BCM Advanced Research, 11 Chrysler, Irvine, California, USA.. All Rights Reserved.

To unsubscribe from this e-mail list, reply to this e-mail with "unsubscribe" in the subject line or Click here to unsubscribe.

BCM, an Intel® Embedded Alliance member, is one of the world leading suppliers of the long life industrial motherboards & systems. We specialize in designing and manufacturing Custom Motherboards for industrial markets including gaming (slot and lottery machines, player tracking systems, hand-held devices, jackpot display systems), retailing (Point of Sale (POS), ATM, self-serve Kiosk, digital signages, Panel PC), industrial (industrial control, automation) and medical segments. We also offer off-the-shelf products from palm size small form factor to desktop motherboards – Nano ITX, Mini ITX, mATX and ATX.

BCM owns a very strong R&D engineering team and RMA department based in Southern California in order to provide prompt project develop support and instant problem solving assistance. We are able to provide low volume manufacturing services for custom requirements. Our sourcing and logistic professionals are here as well to provide quality but cost effective building materials for production with efficient inventory control. BCM is ISO certified. Our products are designed to perform 24/7/365 operation. With twenty years experience, BCM has been serving our Fortune 500 customers with turn-key stable computing platforms since 1990. For more information please visit BCM's website at www.bcmcom.com.