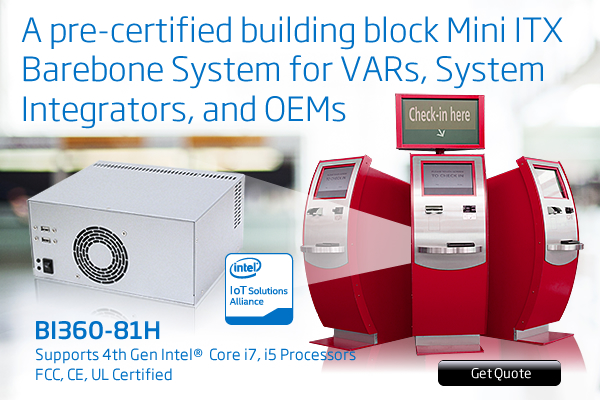 BCM introduces BI360-81H, a FCC and UL certified industrial barebone system providing the 4th generation Intel® H81 Haswell performance with dual display for Interactive Kiosk, Digital Signage and Industrial Controls

The BI360-81H industrial barebone system is based on the 4th generation Intel® Haswell H81 PCH and is equipped with BCM MX81H mini-ITX motherboard which supports 22nm Intel® Core™ i7, i5, i3 processors.

Rich I/O and Expansion
The BI360-81H chassis is designed to maximize the MX81H motherboard's I/O capability to enrich its external I/O interfaces to support devices via at least six USB and four COM ports. There is one PCIe x16 expansion slot which enables the system to support an optional PCIe riser card.

Certifications
The BI360-81H is FCC, CE and UL certified barebone system providing VARs, System Integrators, and OEMs a pre-certified building block to reduce their development costs, engineering resources, and time-to-market.

Availability
The BI360-81H is available now for interested customers. For more information please visit www.bcmcom.com or contact BCMSales@bcmcom.com.


BI360-81H Product Page:http://www.bcmcom.com/bcm_product_BI360-81H.htm
BI360-81H Datasheet: http://www.bcmcom.com/product_spec/BI360-81H.pdf

* All product specifications and product images are subject to change without notice.


---
© BCM Advanced Research, 11 Chrysler, Irvine, California, USA.. All Rights Reserved.

BCM Advanced Research (BCM) is a leading developer and manufacturer of x86/ARM RISC embedded industrial motherboards and systems for ODMs and OEM that integrate computing technology into their products. We own a very strong R&D engineering team and operation department based in Southern California in order to provide prompt project develop support and instant problem solving assistance.  We can be reached by email BCMSales@bcmcom.com. To unsubscribe from this e-mail list, reply to this e-mail with "unsubscribe" in the subject line or Click here to unsubscribe.