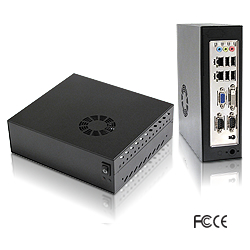 BCM BI255-255D and BI255-67QMD are Intel® Intelligent System Framework ready barebone systems providing connectivity, security and remote management computing capabilities for retail, digital signage, industrial control and transportation markets that require machine-to-machine and/or user-to-machine communications.

Machines capable of interacting with each other through cloud and internet communications are commonly referred to as "Intelligent Systems". These intelligent systems possess three fundamental capabilities including connectivity, manageability and security enabling machine-to-machine communications in an efficient and intelligent way. Intelligent systems are utilized in diverse market segments such as transportation, home energy management, medical, hospitality, retail, digital signage and industrial control systems.  Intel®, having anticipated the ultimate potential of the "Internet of Things" that has been brought on by the massive amounts of data generated by connected intelligent systems, has created the Intel® Intelligent Systems Framework (ISF) to identify and deploy interoperable solutions from both Intel® and ecosystem partners like BCM Advanced Research.




BCM BI255-255D and BI255-67QMD meet the qualifications of ISF
BCM's BI255-255D and BI255-67QMD provide connectivity, manageability and security capabilities through Intel® x86 architecture mini-ITX form factor scaling from the low power Intel® Atom™ to the  high performance Intel® Sandy Bridge platform designed respectively with Intel® advanced technologies. These small footprint, industrial grade systems operate using DC power and supply rich external output interfaces including dual LAN, four USB 2.0, Mic-in, Line-in/out, DVI, VGA, two COM ports and HDMI* ports. Both of these products provide onboard Mini PCIe supporting WiFi modules for wireless connections. Our BI255 series barebone systems also enable flexible installations as they are wall and VESA mount compliant.

For more detailed specifications of our BI255-255D and BI255-67QMD barebone systems, please visit our website at www.bcmcom.com.

* HDMI: HDMI connector is available on the BI255-67QMD barebone system. BI255-255D does NOT have HDMI.
* For more information regarding Intel Intelligent Systems Framework, visit Intel ISF website .