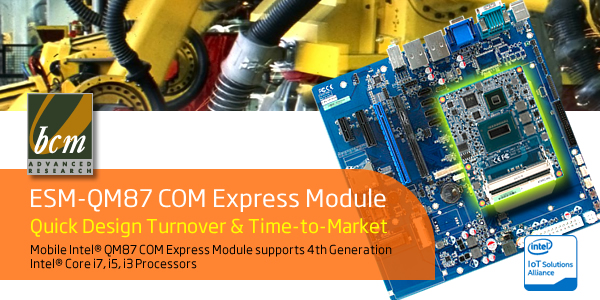 BCM introduces ESM-QM87 COM Express module supports 4th generation Intel® Core™ processor family targeting for applications that require stability, scalability, expandability and quick design turnover

The Computing Platform
BCM introduces the ESM-QM87 COM Express Module designed based on the 4th generation Intel® Core™ processor family equipped with Mobile Intel QM87 chipset architecture together known as the Haswell platform.  The Intel® Haswell platform is built on the 22nm process technology with 3-D tri-gate transistors delivers significant performance advancements on a smaller chip over previous architectures including improved graphics, battery life, and security. This feature enables small form factor design on a COM Express Module such as the BCM ESM-QM87 targeting thinner intelligent applications including industrial Human Machine Interface (HMI), digital signage and medical imaging equipment.

Benefits of COM Express Module Form Factor
COM Express is a computer-on-module (COM) form factor. It is a highly integrated and compact computer board equipped with CPU, chipsets and memory sockets. All the input, output and expansion interfaces are designed on a separate COM Express carrier board thus allowing quick custom design form factors and I/O and easy core technology hardware upgrades by replacing the COM Express module docked on the carrier board. The COM Express modular approach allows  for fast design turnover reducing the system down time and quick time-to-market operation.

Who uses COM Express Modules?
COM Express Modules are broadly adopted by many industries including gaming, retail, industrial, medical, transportation and security. This platform is an ideal solution for applications that require stability, scalability, future expandability and quick design turnover. For example, industrial control applications rarely redevelop the  I/O interfaces to eliminate the hassle of changing the entire access of the external devices. The same carrier board could be used for a number of technology refresh generations taking advantage of increase performance or features by upgrading the COM Express module saving significant R&D costs while shortening the migration time.

Carrier Board
The ESM-QM87 COM Express module requires a carrier board for I/O accessibility.  For customers who need a compatible carrier board, BCM provides EEV-EX14 Micro ATX (uATX) COM Express Type 6 Carrier Board.  Or if new custom carrier board is required, BCM offers custom design services, please contact BCMSales@bcmcom.com for more information on how we can help.


ESM-QM87 Features:
4th Generation Intel® Core™ i7/i5/i3 Processor
Intel® QM87 Express Chipset
Dual Channel 18/24-bit LVDS, VGA, DP/HDMI/DVI
Optional eDP
Intel® High Definition Audio
Intel® I217LM Gigabit Ethernet
7 PCIe x1, 1 PCIe x16
4 SATA, 8 USB 2.0, 4 USB 3.0, SMBus, LPC
+9 ~ +19V Wide Range Power Input
Type 6 Pin-out
For more information please visit:
EQM-BYT: http://www.bcmcom.com/bcm_product_ESM-QM87.htm
Datasheet: http://www.bcmcom.com/product_spec/ESM-QM87.pdf

Other COM Express Products
ESM-BYT: Intel® Atom™ E3800 series processor onboard Soc (Coming Soon)
ESM-QM77: Intel® Ivy Bridge series processor onboard with Intel® QM77 Chipset


Please visit our website at www.bcmcom.com or contact us at BCMSales@bcmcom.com for pricing and availability.

* All product specifications and product images are subject to change without notice.


---
© BCM Advanced Research, 11 Chrysler, Irvine, California, USA.. All Rights Reserved.

BCM Advanced Research (BCM) is a leading developer and manufacturer of x86/ARM RISC embedded industrial motherboards and systems for ODMs and OEM that integrate computing technology into their products. We own a very strong R&D engineering team and operation department based in Southern California in order to provide prompt project develop support and instant problem solving assistance.  We can be reached by email BCMSales@bcmcom.com. To unsubscribe from this e-mail list, reply to this e-mail with "unsubscribe" in the subject line or Click here to unsubscribe.