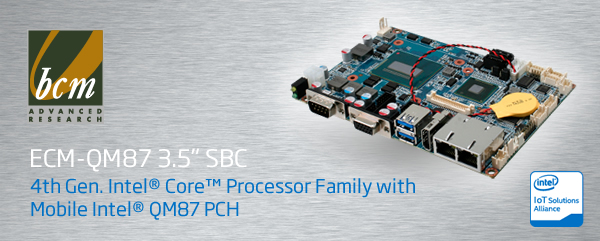 BCM introduce ECM-QM87 3.5" SBC features the 4th generation Intel® Core™ processor onboard with the Mobile Intel® QM87 Chipset for thin intelligent systems and industrial HMI

System Platform
BCM introduces its ECM-QM87 3.5" Single Board Computer (SBC) designed based on the 4th generation Intel® Core™ processors, codenamed Haswell, and the mobile Intel® QM87 Express chipset architecture featuring high performance, power efficiency, security, reliability and remote management capabilities. The ECM-QM87 supports DDR3L SDRAM, triple display via HDMI/VGA/LVDS, Intel® Active Management 9.0., six USB 3.0, two SATA III, dual Gigabit LAN and mSATA support via onboard Mini PCIe interface. Target applications include thin intelligent systems, portable equipments and industrial Human Machine Interface (HMI).

3.5" Single Board Computer (SBC) Small Form Factor
Distinguish from other small form factors such as Q7 and COM Express modules which require compatible carrier boards, the 3.5" Single Board Computers, on the other hand, is a compact, complete computer built on a single circuit board with rich I/O connectors and expansion sockets. BCM ECM-QM87 SBC measures 5.7"x4" (146x101mm). With low profile single stack I/O design on the 4th generation Intel® Haswell platform, the ECM-QM87 is an ideal solution for thin and light weight intelligent systems, digital signage systems, point of sale systems, compact medical imaging processing machines and industrial HMI where space-saving, performance, reliability and longevity are top priority.


ECM-QM87 Features:
Intel® 4th Generation Core™ i7/i5/i3 Processors
Dual-channel 18/24-bit LVDS, HDMI, VGA
Triple Display
Dual Gigabit Ethernet
Realtek ALC892 Supports 5.1-CH Audio
2 SATA III, 1 Mini PCIe Card (Support mSATA)
6 USB 3.0, 2 USB 2.0, 2 COM, 8-bit DIO
Intel® Active Management Technology 9.0
For more information please visit:
ECM-QM87: http://www.bcmcom.com/bcm_product_ECM-QM87.htm
Datasheet: http://www.bcmcom.com/product_spec/ECM-QM87.pdf

Other COM Express Products
ECM-QM77: Intel® QM77 3.5" SBC supports Intel® Core™ i7/i5/i3 Processors (Ivy Bridge Platform)

Please visit our website at www.bcmcom.com or contact us at BCMSales@bcmcom.com for pricing and availability.

* All product specifications and product images are subject to change without notice.


---
© BCM Advanced Research, 11 Chrysler, Irvine, California, USA.. All Rights Reserved.

BCM Advanced Research (BCM) is a leading developer and manufacturer of x86/ARM RISC embedded industrial motherboards and systems for ODMs and OEM that integrate computing technology into their products. We own a very strong R&D engineering team and operation department based in Southern California in order to provide prompt project develop support and instant problem solving assistance.  We can be reached by email BCMSales@bcmcom.com. To unsubscribe from this e-mail list, reply to this e-mail with "unsubscribe" in the subject line or Click here to unsubscribe.