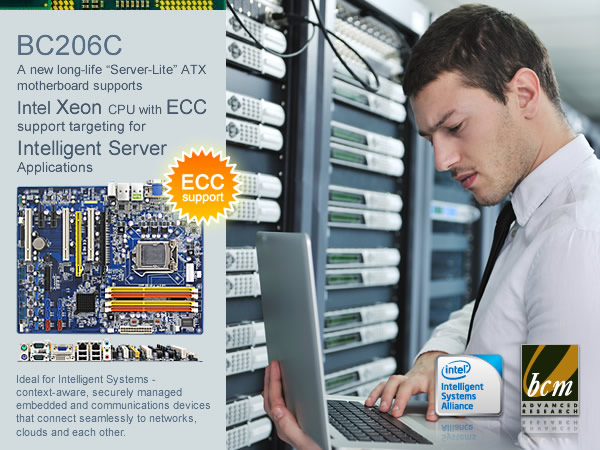 BCM's new long-life "Server-Lite" BC206C motherboard supports 2nd generation Intel® Xeon®, Core™ i7/i5/i3 processors with ECC memory support targeting for Intelligent Server Applications
BCM Advanced Research, an industry leader in industrial motherboards and systems and the Associate member of the Intel® Intelligent Systems Alliance, introduces its BC206C industrial ATX motherboard ideal for server applications.

BCM's BC206C motherboard adopts similar schematic layout as its sister product, the BC67Q Sandy Bridge based product, but also provides greater processing power and more scalability in terms of overall system performance. In addition to providing ECC memory support critical to certain applications, the BC206C is designed to run the powerful 2nd generation Intel® Xeon® and 2nd generation Intel® Core™ i7, Core™ i5, and Core™ i3 desktop processors.

The BC206C is paired with Intel® C206 express chipset and allowing up to 64 GB DDR3 1066/1333 MHz ECC memory delivering server and workstation class performance. The Error Checking & Correction memory (ECC memory) enables the system to perform error-checking and correct internal data corruptions, a core feature for server stations, financial/banking, or scientific computing platforms where system stability and zero data corruption is a requirement.

BC206C Server-Lite ATX Motherboard Features:
Processor: 2nd generation Intel® Xeon® and Intel® Core™ i7/i5/i3 processors
ECC Memory: up to 64 GB DDR3 SDRAM ECC Memory Modules
Dual Display: via DVI-D and VGA
Dual Gigabit LAN
Expansion Slots: PCIe x16, PCIe x4, two PCIe x1, three PCI
COM: up to 6 COM with Voltage Selection*
Legacy I/O: LPT header onboard
USB: 14 x USB 2.0
SATA III: 2 x SATA III, 4 x SATA II
Technology: Intel® AMT 7.0, TPM 1.2
The BC206C industrial ATX motherboard is designated as an OEM product and designed for OEMs with ongoing and consistent order requirements and subject to minimum order quantities. Evaluation units are available without such restrictions. BCM has multiple stocking distributors that may be able to work with OEMs to streamline product deliveries. Please contact BCM Sales for more information on the BC206C or any BCM products you may be interested in. Existing customers please contact your BCM business account manager for pricing and availability. Please visit the BC206C product page for more information.

* Intel® and Intel® Xeon® are registered trademarks of Intel® Corporation in the US and other countries.


---
© BCM Advanced Research, 11 Chrysler, Irvine, California, USA.. All Rights Reserved.

To unsubscribe from this e-mail list, reply to this e-mail with "unsubscribe" in the subject line or Click here to unsubscribe.

BCM, an Intel® Embedded Alliance member, is one of the world leading suppliers of the long life industrial motherboards & systems. We specialize in designing and manufacturing Custom Motherboards for industrial markets including gaming (slot and lottery machines, player tracking systems, hand-held devices, jackpot display systems), retailing (Point of Sale (POS), ATM, self-serve Kiosk, digital signages, Panel PC), industrial (industrial control, automation) and medical segments. We also offer off-the-shelf products from palm size small form factor to desktop motherboards – Nano ITX, Mini ITX, mATX and ATX.

BCM owns a very strong R&D engineering team and RMA department based in Southern California in order to provide prompt project develop support and instant problem solving assistance. We are able to provide low volume manufacturing services for custom requirements. Our sourcing and logistic professionals are here as well to provide quality but cost effective building materials for production with efficient inventory control. BCM is ISO certified. Our products are designed to perform 24/7/365 operation. With twenty years experience, BCM has been serving our Fortune 500 customers with turn-key stable computing platforms since 1990. For more information please visit BCM's website at www.bcmcom.com.