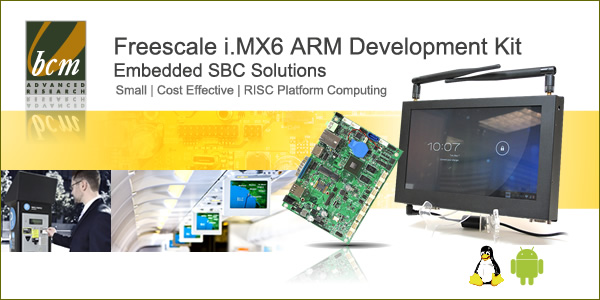 BCM introduced its cost effective ARM Board Development Kits and Development Kits with 10" Touch Panel pre-loaded with Android/Linux 4.0 OS

BCM Advanced Research, a leading supplier of embedded and industrial motherboards since 1990 has made available user friendly development kits for its Freescale i.MX6 Cortex A9 Solo Core and Quad Core based ARM motherboards. The developments kits are designed to ensure our ARM-based customers have the highest probability of a good out-of-box experience during their initial evaluation our AR6MX series products. These kits are designed to boot directly to the Android or Linux Operating System by merely connecting the BCM provide power adapter and plugging in any standard HDMI display monitor. For customers wishing to experiment with a touch panel display BCM the advanced development kits come in the form of a 10 inch panel PC with projective capacitive touch screen. Both development kits come with either an Android or Linux OS preloaded on an industrial grade type 6 SD card, a set of developer console cables, accessory cables, and a power supply.


Key Benefits Summary
The BCM AR6MXS (Solo Core) and AR6MXQ (Quad Core) ARM motherboards are SBC (Single Board Computer) form factor so they do not require  any custom carrier board.  These units are full featured and designed to provide rich onboard I/O interfaces such as MIPI-CSI camera interface, MIPI-DSI, 18/24-bit LVDS, HDMI v1.4, Mini PCIe socket supporting full length and half length PCI cards for WiFi, four USB, a SIM card slot for 3G/4G modules. The bundled ARM development kits enable easy deployment and faster time to market productions.
Performance and Target Applications
The onboard Freescale i.MX6 processor supports up to 1080p video playback, enabling exceptionally high-quality video with long battery life for devices playing HD contents. The AR6MXS Solo Core version supports integration of an EPD display controller ideal for e-readers and similar applications. The AR6MXQ ARM motherboard encompasses the top-of the line i.MX6 Quad Core processor with a 3D graphics engine capable of providing up to 200 Mt/s enabling ultra-vivid, realistic graphics critical for HD images.

The BCM AR6MX series ARM motherboards provide combined multimedia processing power with rich onboard I/O interfaces on a SBC small form factor for enhanced flexibility, mobility, and cost optimized for new generation intelligent devices, digital displays, industrial instrumentation panels, auto infotainment, in-flight entertainment systems, and industrial multimedia applications.

For information and availability regarding BCM AR6MX series ARM Development Kit, please visit our website at www.bcmcom.com or contact us via email BCMSales@bcmcom.com.


---
© BCM Advanced Research, 11 Chrysler, Irvine, California, USA.. All Rights Reserved.

BCM Advanced Research (BCM) is a leading developer and manufacturer of x86/ARM RISC embedded industrial motherboards and systems for ODMs and OEM that integrate computing technology into their products. We own a very strong R&D engineering team and operation department based in Southern California in order to provide prompt project develop support and instant problem solving assistance.  We can be reached by email BCMSales@bcmcom.com. To unsubscribe from this e-mail list, reply to this e-mail with "unsubscribe" in the subject line or Click here to unsubscribe.