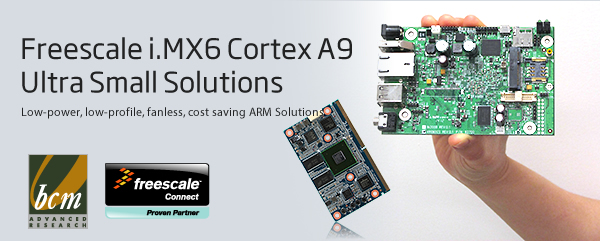 BCM introduces its new Low Cost AR6MXCS Single Board Computer and SMA-IMX6 SMARC Module based on the Freescale iMX6 platform

BCM, a Proven Partner of Freescale Semiconductor, introduces its AR6MXCS single board computer (SBC) and SMA-IMX6 system on module (SMARC) embedded board products based on the Freescale i.MX6 Cortex A9 ARM/RISC architecture with Android and Linux OS BSP support. These are ultra low-power, low-profile solutions targeting cost sensitive markets that require excellent compute performance coupled with low power or portability for embedded OEMs in the retail, gaming, medical, industrial, or transportation market segments.

AR6MXCS measures 120x78mm operating with 5V DC power. It is a palm sized single board computer ready for use off-the-shelf complete with either an Android or Linux BSP.  The AR6MXCS comes standard with HDMI, Gbit Ethernet, miniPCIe socket for wireless connectivity, CAN bus, and is a perfect solution for IoT  (Internet of Things) devices.  It is an ideal solution for cost sensitive OEMs looking for a ready to use embedded single board computer with extended life cycle that they can build their products around and ship for many years to come.    

SMA-IMX6 is a system on module based on the Smart Mobility Architecture (SMARC) solution for OEMs that require a custom computer board solution but prefer to use a proven, off-the-shelf, base CPU and memory module coupled with a less complex custom designed carrier board.  This design approach speeds time to market for OEMs while reducing design risk and engineering costs leveraging the complex SMARC module design from BCM who is a Freescale Proven Partner.  The SMA-IMX6 module is 82x50mm that operates on 3-5V DC power. The SMA-IMX6 module is compatible with SMARC carrier boards enabling scalability, fast time-to-market, upgradability, and reduced engineering design risks and costs.   BCM offers cost effective turn-key carrier board design and manufacturing services with project management teams located both in North America and Asia providing exceptional technical and engineering support at a local level.  BCM's AR6MXCS and SMA-IMX6 ARM solutions are prime products for space constrained applications where excellent performance coupled with small form factor, low profile, low power, and mobility are required.  Typical applications may include in-vehicle PC, industrial tablets, portable barcode scanning systems, touchscreen beverage dispensers, portable test and measurement systems, and thin digital signage systems to name a few.

For more product information please visit:
AR6MXCS: http://www.bcmcom.com/bcm_product_AR6MXCS.htm
Datasheet: http://www.bcmcom.com/product_spec/AR6MXCS.pdf

SMA-IMX6: http://www.bcmcom.com/bcm_product_SMA-IMX6.htm
Datasheet: http://www.bcmcom.com/product_spec/SMA-IMX6.pdf

REV-SA01 (SMARC Carrier Board): http://www.bcmcom.com/bcm_product_REV-SA01.htm
Datasheet: http://www.bcmcom.com/product_spec/REV-SA01.pdf



Freescale i.MX6 Cortex A9 Ultra Small form Factors
AR6MXCS
SMA-IMX6
(SMARC Module)
REV-SA01
(Carrier Board)

Freescale® i.MX6 ARM Cortex A9 Solo Core 1.0 GHz
512 MB onboard DDR3 Memory
Dual Display: 1 x 18/24bits LVDS, 1 x HDMI
4 x USB 2.0 and 1 x USB OTG (Micro USB)
1 x COM Port
1 x uSC Card Socket
1 x SIM Card Socket
External RTC: Seiko® S-35390 or Equivalent (Optional)
5V DC Input
Small Form Factor (Palm Size)
4.72" x 3.07" (120x78mm)


Datasheet

Onboard Freescale i.MX 6 Quad Core Processor Onboard
Wolfson WM8326 PMIC
1 GB DDR3L
eMMC 4 GB On-module
Broadcom BCM54610 10/100/1000 Ethernet
Transceiver
Up to 3 PCIex1, MLB150, 12 GPIOs, SDIO, SATA, 2 SPI, 5
I2C, 1 I2S, SPDIF, WDT, 2 CAN, JTAG
3.23" x 1.97" (82x50mm)



Datasheet

3.5" SBC Form Factor
Compatible with 3.23" x 1.97" (82x50mm) SMARC Modules
HDMI, LVDS, VGA
Audio Interface
1 x Mini PCIe + SIM Socket
2 x CAN BUS
2 x Gigabit LAN
4 x RS-232
3 x USB
1 x SD Socket
1 x SATA
1 x I2C RTC
On-board Accelerometer (MMA8451)
5.75" x 3.98" (146x101mm)

Datasheet


Please visit our website at www.bcmcom.com or contact us at BCMSales@bcmcom.com for pricing and availability.

* All product specifications and product images are subject to change without notice.


---
© BCM Advanced Research, 11 Chrysler, Irvine, California, USA.. All Rights Reserved.

BCM Advanced Research (BCM) is a leading developer and manufacturer of x86/ARM RISC embedded industrial motherboards and systems for ODMs and OEM that integrate computing technology into their products. We own a very strong R&D engineering team and operation department based in Southern California in order to provide prompt project develop support and instant problem solving assistance.  We can be reached by email BCMSales@bcmcom.com. To unsubscribe from this e-mail list, reply to this e-mail with "unsubscribe" in the subject line or Click here to unsubscribe.