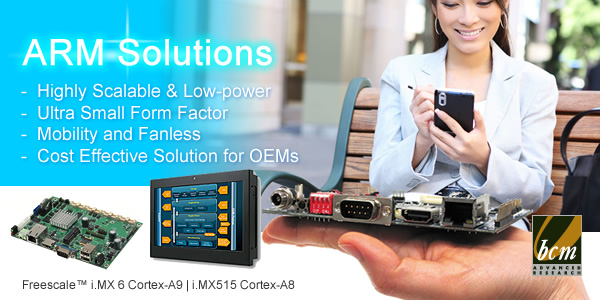 BCM launches a new motherboard design platform based on the Freescale™ i.MX 6 series providing a highly scalable, low power, and cost effective solution for OEMs
BCM Advanced Research, an industry leader since 1990 in embedded motherboards and intelligent systems announces the launch of its latest embedded motherboards based on the highly scalable Freescale™ i.MX 6 series. This new motherboard will be available as a standard product to OEMs and serve as a launch pad for BCM's customized ODM design services targeting mid-sized and large OEMs requiring a feature specific product based on the i.MX6 technology.

BCM's standard i.MX6 product, the AR6MXS, is a single core, small form factor, single board providing OEMs with excellent off the shelf solution ready for integration into their own products and systems. Additionally, for qualifying ODM customers, the AR6MS, or quad core version AR6MXQ, provide an ideal platform to test performance and scalability prior to engaging in BCM's quick-turn custom designs services for a feature specific product design.

In addition to the common smart phone and tablet products, ARM-based computing devices can be founded in a growing number of embedded applications such as set-top-boxes, machine input devices, POS, Kiosk, intelligent machinery, in-vehicle PC, compact digital signage and media players, hand-held game consoles, smart Human Machine Interface (HMI) devices, home automation, and machine-to-machine (M2M) devices, just to name a few . All of the devices mentioned above carry the same feature requirements including compact design, mobility, low power, and fanless operation. These features are delivered by the extraordinary characteristics of the ARM architecture combining low-power consumption and using reduced instruction set processors, yet providing scalability by offering single, dual, or quad core processor options, together enabling ultra small form factor computing design with extremely extended battery life and excellent performance.

BCM's complete turn-key custom OEM/ODM design services for ARM motherboards and systems provides customers with reduced project risk and lower development costs while accelerating time to market. Our latest ARM products include the AR6MXS, a Freescale® ARM Cortex™-A9 with a single core processor or the AR6MXQ with four cores. BCM also offers a turn-key touch panel PC system , the PPC10W-51MX, based on the Freescale® ARM Cortex™-A8 (i.MX515) platform offering a fanless 10.1 inch touch screen computer running on 12V DC power.

For detailed information please visit our website at www.bcmcom.com/product_industrialMB_ARM_RISC.htm or contact BCMSales@bcmcom.com.



---
© BCM Advanced Research, 11 Chrysler, Irvine, California, USA.. All Rights Reserved.

To unsubscribe from this e-mail list, reply to this e-mail with "unsubscribe" in the subject line or Click here to unsubscribe.

BCM, an Intel® Embedded Alliance member, is one of the world leading suppliers of the long life industrial motherboards & systems. We specialize in designing and manufacturing Custom Motherboards for industrial markets including gaming (slot and lottery machines, player tracking systems, hand-held devices, jackpot display systems), retailing (Point of Sale (POS), ATM, self-serve Kiosk, digital signages, Panel PC), industrial (industrial control, automation) and medical segments. We also offer off-the-shelf products from palm size small form factor to desktop motherboards – Nano ITX, Mini ITX, mATX and ATX.

BCM owns a very strong R&D engineering team and RMA department based in Southern California in order to provide prompt project develop support and instant problem solving assistance. We are able to provide low volume manufacturing services for custom requirements. Our sourcing and logistic professionals are here as well to provide quality but cost effective building materials for production with efficient inventory control. BCM is ISO certified. Our products are designed to perform 24/7/365 operation. With twenty years experience, BCM has been serving our Fortune 500 customers with turn-key stable computing platforms since 1990. For more information please visit BCM's website at www.bcmcom.com.