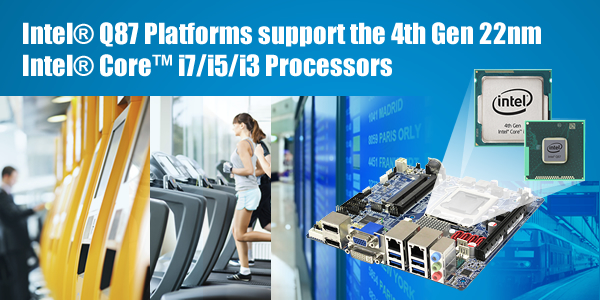 BCM introduces four Intel® Q87 Haswell platform Series industrial motherboards supporting the 4th generation Intel® Core™ i7/i5/i3 processors and multi-monitor features for gaming, retail, industrial and medical industries

BCM has introduced four new industrial motherboards based on the 4th generation Intel® Core™ i7/i5/i3 processors, code named Intel® Haswell, based on the Intel® embedded Q87 and H81 chipset available in various form factors including: BC87Q (ATX), RX87Q (uATX), MX87QD (Mini ITX) and MX81H (Mini ITX).

Platform Features
The new Q87 Series motherboards come equipped with socket H3 LGA1150 supporting the 4th generation Intel® Core™ i7/i5/i3 22nm process technology with 3D Tri-Gate transistors as well as Pentium® or Celeron® desktop processors with a TDP ranging from 35W to 65W TDP for Mini ITX form factors and 95W TDP for uATX and ATX form factors providing scalable processing power to meet various performance requirements.
Supports Three Independent HD Display
The Q87 Series motherboards support three independent high resolution displays via combinations of onboard video output interfaces including two DisplayPort, DVI-D, VGA and or LVDS delivering intensive 2D/3D performance.
Custom Design

BCM also specializes in ODM/OEM custom motherboard design and manufacturing services. Our Southern California based R&D engineering team provides prompt support and quick turnaround prototypes upon customer's flexible requirements based on Intel® Haswell platform. Please visit our website at www.bcmcom.com or contact one of our Sales Representatives for more information.
USB 3.0 and SATA III Technology
BCM's Q87 Series motherboards provide 2 to 4 USB 3.0 on the rear I/O panel for direct access and at least 2 SATA III (6.0 Gb/s) with RAID 0/1/5/10 functions enabling more redundancy and doubling the maximum data transfer speed between the storage devices and the computing systems. Select models provide a low profile mSATA interface allowing for SATA integration in small form factor SSD drives.
Intel® i217-LM and i210-AT Gigabit Ethernet Controller
All four of BCM's Q87 Series motherboards are equipped with Intel® i217-LM and i210-AT Ethernet Controllers providing high-performance gigabit network connectivity with support for Intel® vPro technology while significantly reducing the CPU power requirements leading to energy saving.
TPM and Intel® Active Management Technology 9.0
Besides the MX81H, integrated Trusted Platform Module (TPM) 1.2 and Intel® Active Management Technology 9.0 are supported providing enhanced security, better efficiency and cost saving maintenance through remote management capability.

Applications
BCM's new Q87 Series motherboards support industry-leading performance, provide rich high-speed I/O and expansion interfaces, manageability and security. These features meet the qualifications required by most of the next generation intelligent computing systems in today's market. These motherboards are ideal for 3D/HD gaming machines, digital signage, retail and self-serve Kiosk, ATM terminal, high-resolution X-Ray scanning devices, medical imaging systems, security surveillance monitoring systems and industrial automations.

Product Offering:
Availability
For BCM distribution channels, please contact your Regional Sales Manager to request an evaluation sample. For other, please email your inquiry to BCMSales@bcmcom.com.

* All product specifications and product images are subject to change without notice.


---
© BCM Advanced Research, 11 Chrysler, Irvine, California, USA.. All Rights Reserved.

BCM Advanced Research (BCM) is a leading developer and manufacturer of x86/ARM RISC embedded industrial motherboards and systems for ODMs and OEM that integrate computing technology into their products. We own a very strong R&D engineering team and operation department based in Southern California in order to provide prompt project develop support and instant problem solving assistance.  We can be reached by email BCMSales@bcmcom.com. To unsubscribe from this e-mail list, reply to this e-mail with "unsubscribe" in the subject line or Click here to unsubscribe.