BCM Advanced Research




Delivering Quality Intelligent Computing Systems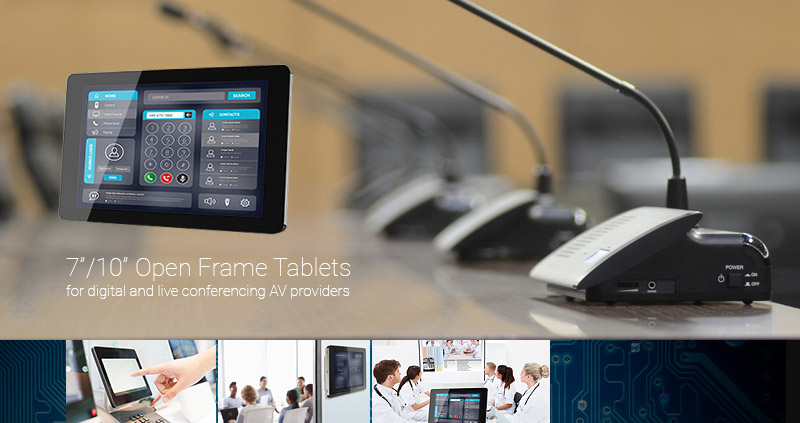 BCM's Open Frame Tablet series products caught the attention of Pro-AV OEMs for their digital live streaming conferencing products at InfoComm, June 2016

If you didn't get the chance to visit BCM booth at InfoComm in Las Vegas, here are some showcase recaps of what was demonstrated. Digital live streaming video conferencing and broadcasting products were one of the highlights at the infoComm show. BCM's Open Frame Tablet series products were able to catch the attentions of quite a few pro-AV providers because of its versatile features - display and performance quality, slim design, fanless, multi-OS support, touch and Wi-Fi/Bluetooth capabilities, and easy mounting and integration mechanical design.

BCM provides four different screen sizes of the open frame (OFT) series – 7", 10", 15" and 21". All of these products are equipped with the Intel Atom Z3735F processor and with 2 GB DDR3L RAM and 32GB eMMC onboard. The OFT products are highly competitive, semi-finished open frame systems bringing a lower cost and faster time-to-market solutions for applications requiring PCAP touch screens, wireless and Bluetooth capability, fanless operation, and slim design, for space constrained environments.

For newer generation enterprise conference systems, the information such as audio, video, social media, and meeting data travel via wired and wireless communication using standard OFT networking features while controlled via a PCAP touch user interface. BCM's OFT-07W01 all-in-one open frame tablet is a good fit to this solution. It provides a 7 inch touch display which is an ideal screen size for conferencing systems where table space is limited. It can be easily integrated into a custom designed enclosure using the integrated mounting design. The OFT- 07W01 supports Wi-Fi and Bluetooth for accessing wireless devices. Furthermore, the OFT-07W01 is very low power and completely fanless for noise-free operation required for meeting rooms environments.

For a small conference room scheduling terminals, BCM's 7" and 10" open frame tablets are also the ideal solutions for these types of applications due to its built-in touch capability, easy mounting design and POE option.

BCM has specialized in custom design for long life industrial motherboard and computing systems since 1990 for retail, digital signage, gaming, and industrial applications. For over a decade BCM has been helping our customers reduce the total cost of their products and shorten the time-to-market with our semi-finished standard products. We believe the OFT product series is one of our best solutions yet so please see for yourself and give them a try. If your applications require more detailed customization, please contact our sales team at BCMSales@bcmcom.com.


OFT-07W01
OFT-10W01
OFT-15W01
OFT-21W01
7" PCAP
10.1" PCAP
15.6" PCAP
21.5" PCAP
1280x800
1280x800
1920x1080
1920x1080

Intel Atom Z3735F Quad Core 1.33 GHz Processor
2GB DDR3L RAM Onboard
32GB eMMC Onboard
Wi-Fi (802.11b/g/n) & Bluetooth 4.0
PCAP Touch
10/100 Ethernet (PXE Boot)
Touch board interface (Power/ Brightness/ Volume/ LED)
16Bit programmable GPIO
12V-24V DC Input
1 x RS232 and 1 x RS485 (Two Internal COM Ports)
Multi-OS Support: Windows, Android and Linux

Targeted for OEM / ODM customers only with minimum non-sample order quantities required









Availability

The BCM open frame tablet series products are available for purchase. For more information or for custom carrier board design based on these modules, please visit www.bcmcom.com or contact BCMSales@bcmcom.com.
About BCM Advanced Research
Founded in 1990, BCM, an Associate member of Intel IoT Alliance and an NXP Proven Partner, has been a key supplier of turn-key embedded computing solutions for digital signage, broadcast, and digital media applications for well over two decades. In addition to digital media, some of our other market segments include retail, gaming, healthcare, hospitality, medical equipment, and industrial automation. Our long life industrial grade computing platforms support digital applications in many aspects including multiple screen sizes and performance levels while delivering holistic BOM control, extended lifecycle, and a stable compute platform you can build your digital products around. BCM's Southern CA based R&D and PM teams provide fast paced and innovative ODM service with leading technology to meet most customer requirements while our manufacturing, global sourcing, and logistic teams work together to bring the most cost effective and highest quality solutions to our customers. For more information, please visit: www.bcmcom.com