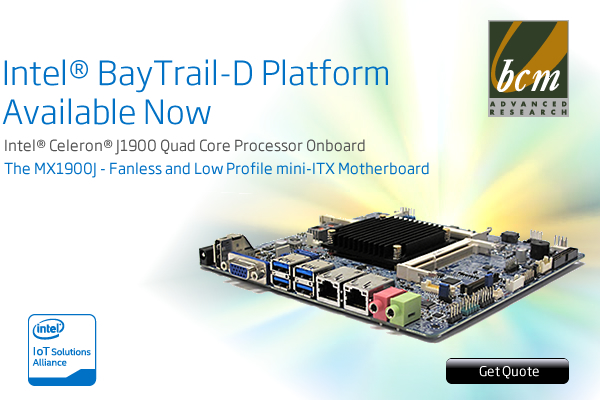 BCM MX1900J, Intel® BayTrail-D Celeron® J1900 SoC mini-ITX motherboard is available for shipping

After a long wait, customers who are looking for BCM MX1900J are now can be pleased. BCM is shipping the board through its distribution channels including Arrow Electronics and Avnet. Purchase from BCM eStore is also available for customers who just need a few pieces for evaluation purpose.

The BCM MX1900J is positioned as a value-line performance product for PC-like designs, such as thin clients, retail transactional clients, digital signage, embedded medical equipment, HMI devices, to name a few.

MX1900J Main Features:
Fanless
Low Profile (thin mini-ITX)
Intel® BayTrail-D Platform
Supports dual display
Rich I/O ports & expansion interfaces
Easy integration with BI255 barebone chassis
Operated by DC Power
OEM Bulk Packaging for cost down
Customizable upon customer's request
UL Compliant
Product Webpage: http://www.bcmcom.com/bcm_product_MX1900J.htm
Datasheet: http://www.bcmcom.com/product_spec/MX1900J.pdf

Related Product - BI255-1900J
For customers who are looking for a small Intel® BayTrail-D based industrial computer, BCM provides its BI255-1900J mini-ITX barebone system. The system measures 8" L x 7.125" W x 2.5" H and is equipped with BCM MX1900J motherboard with DC power adapter and power cord enabling fast time-to-market for OEMs to save the development cost and time.  For IoT Gateway development kit, BCM provides a special SKU based on the same barebone system with the software stack, the BI255-1900J-IoT-DEV, an pre-validated development kit for Intel® Gateway Solutions for the Internet of Things (IoT). For more information and availability please contact BCMSales@bcmcom.com.

Product web page: http://www.bcmcom.com/bcm_product_BI255-1900J.htm
Datasheet: http://www.bcmcom.com/product_spec/BI255-1900J.pdf

For distribution channels, please contact your BCM RSM for more information. For customers who are looking for custom design based on this motherboard, please send us the inquiry to BCMSales@bcmcom.com or visit www.bcmcom.com.


* All product specifications and product images are subject to change without notice.


---
© BCM Advanced Research, 11 Chrysler, Irvine, California, USA.. All Rights Reserved.

BCM Advanced Research (BCM) is a leading developer and manufacturer of x86/ARM RISC embedded industrial motherboards and systems for ODMs and OEM that integrate computing technology into their products. We own a very strong R&D engineering team and operation department based in Southern California in order to provide prompt project develop support and instant problem solving assistance.  We can be reached by email BCMSales@bcmcom.com. To unsubscribe from this e-mail list, reply to this e-mail with "unsubscribe" in the subject line or Click here to unsubscribe.