BCM RX67Q Industrial mATX motherboard now supports the Multi-Monitors feature running six independent displays simultaneously using its onboard graphics and a PCIe graphics card
Irvine, California, September 28, 2011 – BCM Advanced Research, an Associate member of the Intel® Embedded Alliance and a leading industrial motherboards & systems supplier, introduced the multi-monitor feature provided by our RX67Q industrial Micro ATX motherboard. The board is able to run six independent displays simultaneously while running the onboard graphics and a PCIe graphics card. 

The RX67Q mATX motherboard adopts the Intel® Q67 desktop platform supporting the 2nd generation Intel® Core™ i7/i5/i3 processors. This powerful combination provides efficient performance and is able to handle high-definition content or multi-tasking applications on multiple displays. The onboard video output can support two independent displays from the combinations of DVI, VGA and HDMI. Additional PCIe x16 graphic cards provides additional four video outputs. The RX67Q's built-in multi-monitor functions can be enabled through the BIOS setting; therefore, the board is able to support a total of six independent displays.

The earlier generations of Intel® computing platform can use either the onboard graphics or the add-on graphics at one time. Choosing to use the add-on graphic cards will make the onboard graphics disabled automatically. The multi-monitor feature was developed starting from the Intel® Q6/Q5 series motherboards, which will give great benefits for digital signage, medical imaging, gaming, and video surveillance applications.

BCM starts to ship the RX67Q motherboard.   Click HERE for more product features. Visit our website at www.bcmcom.com or email as at BCMSales@bcmcom.com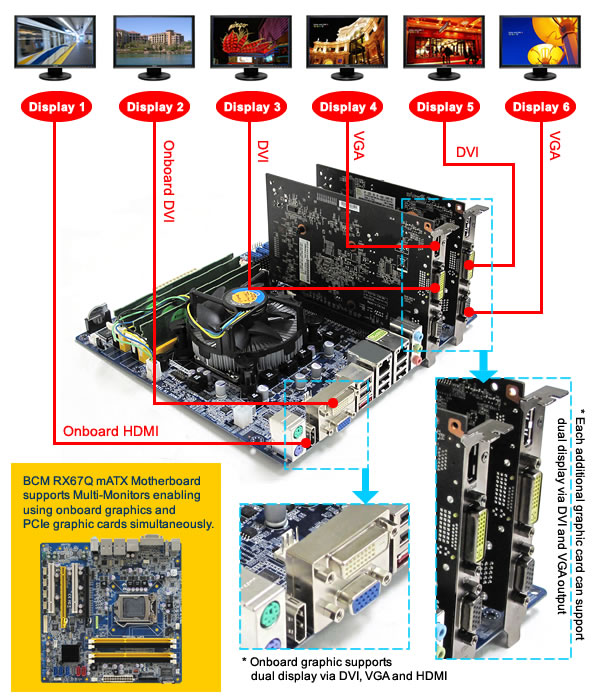 ---
© BCM Advanced Research, 7 Marconi, Irvine, California, USA.. All Rights Reserved.

To unsubscribe from this e-mail list, reply to this e-mail with "unsubscribe" in the subject line or Click here to unsubscribe.

BCM, an Intel® Embedded Alliance member, is one of the world leading suppliers of the long life industrial motherboards & systems. We specialize in designing and manufacturing Custom Motherboards for industrial markets including gaming (slot and lottery machines, player tracking systems, hand-held devices, jackpot display systems), retailing (Point of Sale (POS), ATM, self-serve Kiosk, digital signages, Panel PC), industrial (industrial control, automation) and medical segments. We also offer off-the-shelf products from palm size small form factor to desktop motherboards – Nano ITX, Mini ITX, mATX and ATX.

BCM owns a very strong R&D engineering team and RMA department based in Southern California in order to provide prompt project develop support and instant problem solving assistance. We are able to provide low volume manufacturing services for custom requirements. Our sourcing and logistic professionals are here as well to provide quality but cost effective building materials for production with efficient inventory control. BCM is ISO certified. Our products are designed to perform 24/7/365 operation. With twenty years experience, BCM has been serving our Fortune 500 customers with turn-key stable computing platforms since 1990. For more information please visit BCM's website at www.bcmcom.com.