BCM releases its new Value-Embedded MX81H industrial mini-ITX motherboard
a mini-itx supports 4th generation Intel® Core™ i7/i5/i3 processors with dual display via two DisplayPorts or VGA video outputs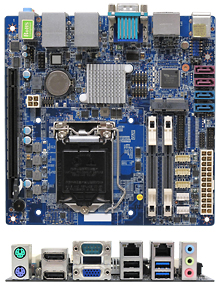 Platform:
The MX81H is designed based on Intel® Haswell platform. It is equipped with socket H3 LGA1150 and Intel® H81 desktop chipset together supporting the 4th generation Intel® Core™ i7/i5/i3 processors and Intel® Celeron® processors up to 84W TDP.

Dual Display Video Outputs:
The MX81H provides two DisplayPorts and one VGA on the rear I/O and one optional onboard LVDS header to support high-definition graphics and video playback.

USB 3.0 and SATA III Technology:
The MX81H is equipped with two USB 3.0 ports for external I/O access and two SATA III (6.0 Gb/s) enabling faster data transferring rate. The board also provides six USB 2.0 and two SATA II (3.0 Gb/s) offering rich I/O interfaces to support additional USB and HDD/SSD devices.

Rich Expansion Slot/Sockets:
Besides a standard PCIe x16 slot, there is one full size plus one half size mini-PCIe sockets providing expansion support  for onboard WiFi modules or miniPCIe SATA DOMs for low cost, high performance solid state storage capability.

Packaging:
As part of BCM's "Go Green" and cost saving measures the MX81H ships in bulk packaging elimination the cost and waste of excess packaging as well as fuel savings by transporting more units in the same volume footprint. Additionally, through customer survey feedback, many of the legacy accessories such as IDE and FDD cables are no shipped as standard accessories eliminating landfill waste and saving costs. The bulk-packs come in cases of 20 units per carton. This not only allows us to cost down on materials but also reduce waste of cartons and plastic for the environment.

Recommended CPU Coolers:
As a convenience to customers, BCM tested and qualified the following CPU coolers, the Intel® E7379-001 and E98290-001 on the MX81H motherboard. These push-pin type of CPU coolers perform well with Intel® processors up to 35W TDP.

For detail product specifications, please visit MX81H online. For other information regarding our products and services, please visit www.bcmcom.com or contact BCMSales@bcmcom.com.

* All product specifications and product images are subject to change without notice.