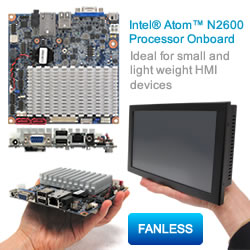 NX260N Product Features:
• Intel® Atom™ N2600 1.66 GHz processor
• Max CPU TDP 3.5W
• Integrated Intel® GMA 3600
• Intel® NM10 Chipset
• Supports up to 2 GB DDR3 system memory
• VGA and 18/24-bit Dual Channel LVDS
• HD Audio
• Gigabit Ethernet
• 2 x SATA II, 6 x USB 2.0, 2 x COM ports
• 1 x GPIO
• 1 x Mini PCIe
• Low Profile Heatsink
• Fanless Operation
• 12V DC-in Power
• Nano ITX Small Form Factor (4.7" x 4.7")
• Intel® Hyper-Threading Technology
• Enhanced Intel SpeedStep® Technology
• Target Ship Date: Mid-October


Fanless, Low Profile, Low Power (5.6W CPU+Chipset), Small Footprint Industrial nano-itx Motherboard





3rd Generation Intel® Atom™ N2600 1.6 GHz Dual Core Processor onboard with Integrated Intel® Graphics Media Accelerator 3600



BCM's NX260N nano-itx motherboard is designed based on the 3rd generation Intel® Atom™ architecture. The board is equipped with the Atom™ N2600 processor onboard with Intel® NM10 chipset together provides rich I/O capabilities and flexibility via high bandwidth PCI, PCI-Express, Serial ATAII and USB 2.0 interface. Based on 32nm processor technology, the NX260N nano-itx motherboard features terrific performance-per-watt delivering a low 5.6W combined CPU + chipset power consumption allowing for fanless operation idea for an embedded device that requires 24/7 operation such as industrial controls, test equipment, retail POS or store shelf digital signage displays, self-serve Kiosks, public transportation signage, department store price checkers, and mobile or battery operated hospital computers on wheels (COWs).

In addition to its low profile and small footprint motherboard, the NX260N operates on 12V DC power which enables slim computing system design ideal for light weight and space constrained on demand applications. Due to its fanless feature, the board is an ideal solution for environments such as library, museum, and hospitals where quiet operating computing systems are required.

The NX260N nano-itx motherboard will be available to ship next week. Please contact your RSM or email BCMSales@bcmcom.com for pricing information. Click NX260N for detail product specifications.





* Intel® and Intel® Atom™ are registered trademarks of Intel® Corporation in the US and other countries.


---
© BCM Advanced Research, 11 Chrysler, Irvine, California, USA.. All Rights Reserved.

To unsubscribe from this e-mail list, reply to this e-mail with "unsubscribe" in the subject line or Click here to unsubscribe.

BCM, an Intel® Embedded Alliance member, is one of the world leading suppliers of the long life industrial motherboards & systems. We specialize in designing and manufacturing Custom Motherboards for industrial markets including gaming (slot and lottery machines, player tracking systems, hand-held devices, jackpot display systems), retailing (Point of Sale (POS), ATM, self-serve Kiosk, digital signages, Panel PC), industrial (industrial control, automation) and medical segments. We also offer off-the-shelf products from palm size small form factor to desktop motherboards – Nano ITX, Mini ITX, mATX and ATX.

BCM owns a very strong R&D engineering team and RMA department based in Southern California in order to provide prompt project develop support and instant problem solving assistance. We are able to provide low volume manufacturing services for custom requirements. Our sourcing and logistic professionals are here as well to provide quality but cost effective building materials for production with efficient inventory control. BCM is ISO certified. Our products are designed to perform 24/7/365 operation. With twenty years experience, BCM has been serving our Fortune 500 customers with turn-key stable computing platforms since 1990. For more information please visit BCM's website at www.bcmcom.com.