BCM Advanced Research




Delivering Quality Intelligent Computing Systems
Multi-Touch Computing Made Easy

As touchscreen technology has become the baseline technology for user-to-machine interfaces, many OEMs are scrambling for solutions to update and modernize their equipment. To address those needs, BCM's Open Frame Tablet (OFT) Series deliver an easy, quick time-to-market, and cost-effective way to modernize products with user-friendly, multi-touch LCD technology.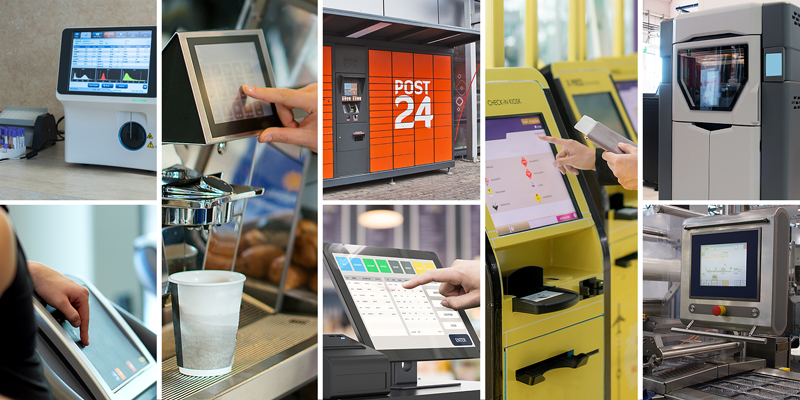 Easy installation. Off-the-shelf convenience.

With four sizes to choose from, 7", 10", 15" and 21", you are going to love the ease of installing these ready-made all-in-one touch-LCD computing devices, while reducing engineering complexity and helping to speed time-to-market. The multi-OS support (Windows, Android, Linux) and bezel-free design, allows OEMs to simply add electricity, load their app and go. It's really that easy.

A complete turn-key solution optimized for rapid deployment
✔ LCD panel with PCAP Touch for a familiar user experience
✔ Intel® mobile CPU, Memory and Storage included to simplify the design
✔ WiFi, Bluetooth and Ethernet connectivity for IoT capabilities
✔ Ready-Mount Frame with CAD files makes mechanical design seamless
✔ Pre-loaded Android, Linux or Windows 10 image streamlines software development
✔ Fanless and ultra-low power
✔ Slim
Fast Time-to-Market

Evaluation quantities of the OFTs are in-stock and typically ship within 48 hours. The OFT is the off-the-shelf answer to seamlessly and cost effectively adding touchscreen technology to your OEM equipment.

For more information please contact BCMSales@bcmcom.com or visit www.bcmcom.com.
BCM is an associate member of Intel IoT Alliances. This membership opens a wide door for BCM to align closely with Intel® to better serve our clients in their use and adoption of Intel® embedded architecture. As an Intel® Internet of Things Solutions Alliance Associate member, BCM stays technologically connected in receiving early access to the latest Intel® technical roadmaps, test platforms, design support, and business objectives. Additionally, our R&D engineers and account managers will be in a position to better serve our clients by further educating themselves about the latest Intel® embedded technologies and actively participating in Intel® training, market development programs, and other ecosystem activities.
About BCM Advanced Research
Founded in 1990, BCM, an Associate member of Intel IoT Alliance, has been a key supplier of turn-key embedded computing solutions to retail, gaming, healthcare, hospitality, medical equipment, and industrial automation applications for well over two decades. Our long life industrial grade computing platforms support digital applications in many aspects including multiple screen sizes and performance levels while delivering holistic BOM control, extended lifecycle, and a stable compute platform you can build your digital products around. BCM's Southern CA based R&D and PM teams provide fast paced and innovative ODM service with leading technology to meet most customer requirements while our manufacturing, global sourcing, and logistic teams work together to bring the most cost effective and highest quality solutions to our customers. For more information, please visit: www.bcmcom.com